We believe our National Dental Solutions (NDS) discount program provides our members with extremely valuable savings on the services outlined.

Participating dental locations provide savings that range from 15% to 50%* per visit on dental services, including cleaning, x-rays, fillings, root canals, crowns, bridges and orthodontia.
How to Start Using Your Benefits
Find a participating provider

Make sure you indicate to the dentist that you are part of the Aetna Dental Access Ò network (Point out the logo on the back of your membership card).
SERVICES
As a member of the National Dental Solutions program, you and your family have access to the Aetna Dental Access Ò Network.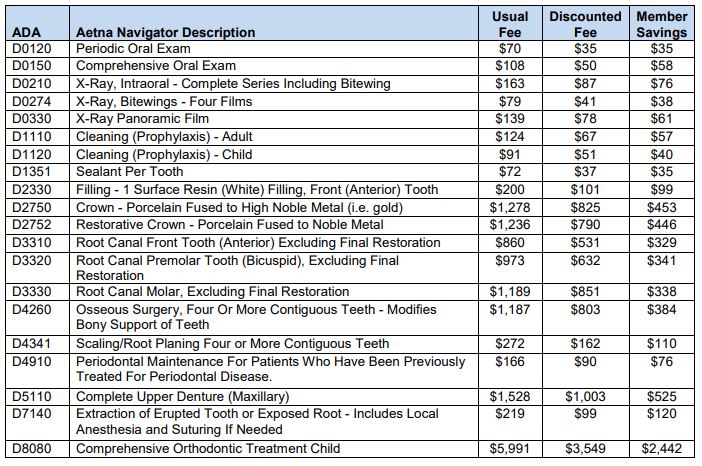 1799 W Oakland Park Blvd, Fort Lauderdale, FL 33311
National Dental Solutions IS NOT INSURANCE.
It is a Discount Medical Plan.
It is a discount medical plan. You are required to pay for services at the time they are rendered and if you do so at a participating provider you will receive a discount. Neither NDS nor the discount medical plan organization can make any payments to the provider on your behalf. If you do not wish to participate in the plan within 30 days of joining you may return the discount ID card with a written request for refund and receive all of your money back.The discount medical plan organization is AccessOne Consumer Health, Inc. 84 Villa Rd. Greenville SC 29615 www.accessonedmpo.com This plan does not constitute coverage under the ACA or Massachusetts health insurance requirements. The plan is not available in AK, CT, MT, RI VT or WA. La. R.S. 22:1260(5)(C) - If the discount medical plan organization cancels a membership for any reason other than nonpayment of charges by the member, the discount medical plan organization shall make a pro rata reimbursement of all periodic charges to the member. La. R.S. 22:1260(7)(D)(1)(k) - Procedures for filing complaints under the discount medical plan organization's complaint system and information that, if the member remains dissatisfied after completing the organization's complaint system, the plan member may contact his state insurance department. After the first thirty (30) days, you may cancel participation at any time and if you have pre-paid any membership fees, the prepayment will be refunded on a pro-rata basis for months you have not used. If you are dissatisfied with the response, you may contact your state insurance department.
Access One Consumer Health provides access to the Aetna Dental Access network. This network is offered by Aetna Life Insurance Company (ALIC). Neither ALIC nor any of its affiliates offers or administers the National Dental Solutions Dental Program. Neither ALIC nor any of its affiliates is an affiliate, agent, representative or employee of National Benefit Builders, Inc. (NBBI). Dental providers are independent contractors and not employees or agents of ALIC or its affiliates. ALIC does not provide dental care or treatment and is not responsible for outcomes.
The select regional average cost represents the average fees for the procedures listed above in Los Angeles, Orlando, Chicago and New York City, as displayed in the cost of care tool as of June 2018